Videos are the most powerful marketing tool to help you engage with local prospects and get them rushing to your shop or store.
Video has the power to engage the audience and help you better connect with them.  As you know, people are visual and emotional creatures.
By using videos, you will definitely convert more visitors into foot traffic to your local business.
What Kind of Videos Should You Produce
If you don't have ideas on what types of videos to produce, here are some suggestions:
Create a welcome Video to greet your web visitors and give them a virtual tour of your office, facility, or shop. You can post the welcome video right on your home page.
Use video to tell an engaging story of y of how you get started in your business and what you are passionate about.
Capture Testimonials of happy clients.
Educational "how to" videos to teach and share your knowledge and experiences.
Humorous and viral videos that promotes your business, products, or services.
How to Put Video On Your Website
The easiest way to put a video on your website is to upload it to Youtube first. And then you can embed the Youtube video on your website. Check out the help section on Youtube to learn how you can easily upload your videos to Youtube.
Hosting your videos on Youtube is free, and the quality is good enough for most uses.
To display the Youtube video on your website, you'd have to get the Javascript code and embed that code into your website.
Here are the steps:
Click on the "share" button and the click on the "Embed" button and copy the code.
Insert this code into your website. You also have the option of customizing the width and height.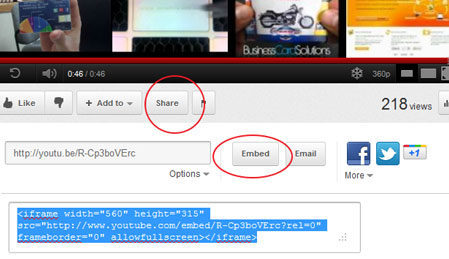 How to Produce a Video
Nowadays, you have lots of tools to produce a video. The cheapest methods are to use your digital camera or mobile phone. If you want better quality video and sound, then I suggest you get a Kodak pocket video camera. Below are some popular models with high ratings on Amazon.
| | | |
| --- | --- | --- |
| Kodak Zi8 | Kodak Zx5 | Kodak Zi6 |
If you want to add special effects and edit your video, you can use a video editing program. You can use a free one such as Imovie (for Mac) or Window Moviemaker. However, if you want to produce high quality and more professional videos, you should use a professional video editing software such as Adobe Premiere Elements (Retail at $79).
If you don't want to mess around with camera and software, then another option to use is Animoto. Animoto allows you to easily create amazing videos from your photos, video clips and music. They have a rich library of music for you to use.
Within 5-10 minutes, you could create a compelling slideshow video with music and nifty special effects.
Below is an example of a video made using Animoto.